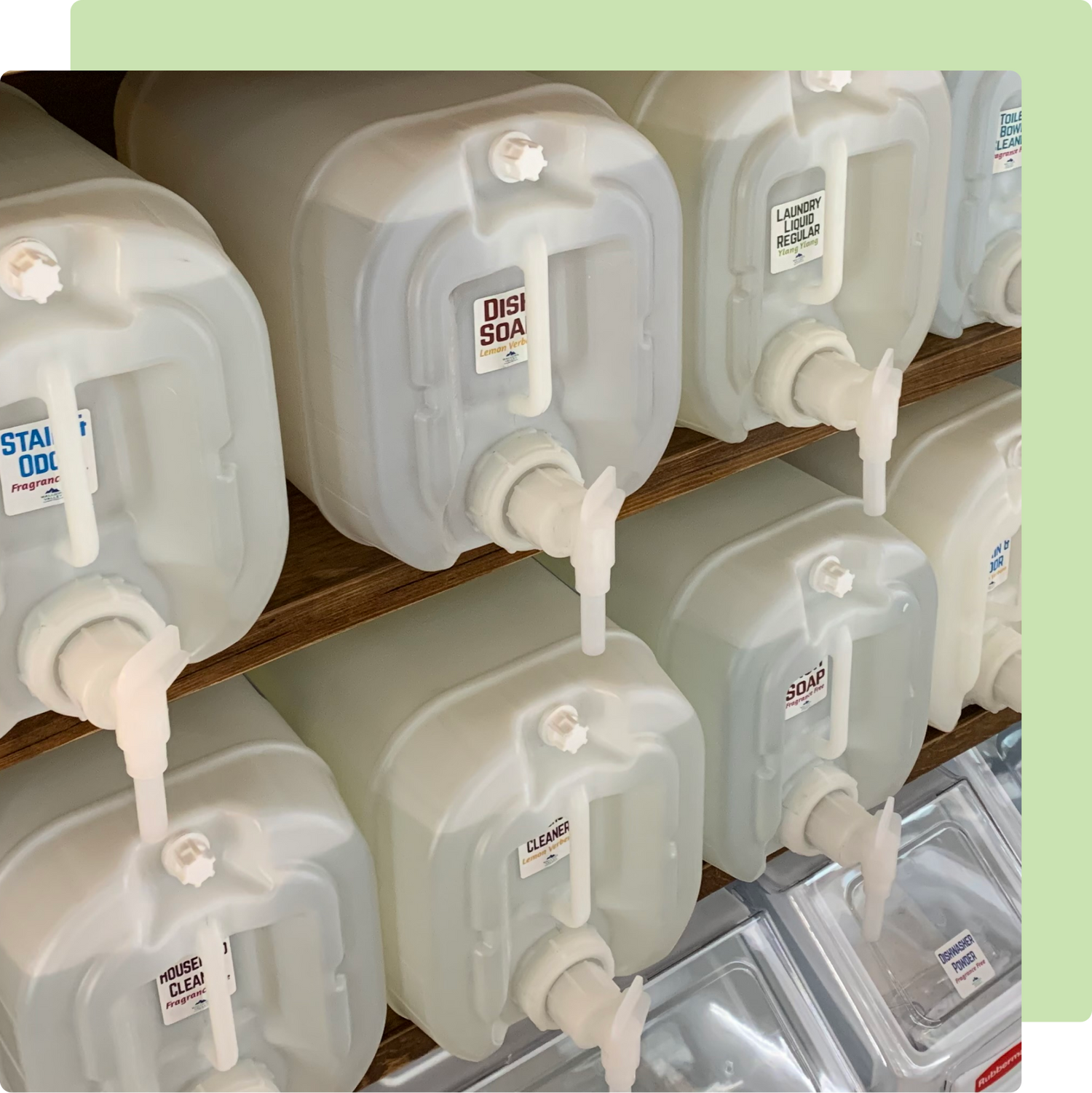 Complete compact retail turnkey system for ultra-effective ultra-green home cleaning products.
Download PDF
Retail Refillery Station
Wallowa Valley Cleaning Products is on a mission to make the world cleaner, safer, and more sustainable. We develop the most advanced cleaning solutions, while maximizing safety for people, animals, and the environment. Every day we make the world cleaner—one less wasteful container at a time.
Ultra-Effective Ultra-Green Formulations
More effective than virtually all other "green" cleaners

No SLS, SLES, phthalates, chlorine, or phosphates

17 formulations available in a broad range of packaging (consumer packaging to 55-gallon drums)

The largest selection of ultra-green, ultra-effective cleaning products in the world
The Refillery Concept
Our custom rack system and bulk cleaning products provide retailers with everything needed to create a "Refillery." Refillerys serve as product hubs where consumers can buy cleaning products and then return to refill repeatedly. Customers can also bring their own containers from home and fill/refill them. Our durable refillable packaging makes ultra-effective, ultra-green products readily accessible without creating plastic waste.
Our Refillery Rack System
Our custom rack system enables retailers to sell ultra-effective, ultra-green cleaners without generating plastic waste. Our basic rack is designed to deliver 10 bulk liquids, 3 bulk powders, and the necessary packaging accessories inside of a 24" X 65" retail footprint. Our racks easily accommodate three 5-gallon liquid bulk containers of ten products without wasting space. This is a total of 150 gallons of bulk liquid storage. Three or four powder bins on the first level (floor) enable another 150# of powders to be available.
Seventeen Basic Proven Cleaning Formulations

Floor Cleaner
Dish Soap
Laundry Powder w/ Enzymes
Laundry Powder w/o Enzymes
Household Cleaner
Stain & Odor Remover
Laundry Liquid – Regular
Laundry Liquid – Best
Oxygen Bleach
Toilet Bowl Cleaner
Glass Cleaner
Classic Castile Soap
Dishwasher Powder
Dishwasher Gel
Hand Soap
Carpet & Rug Cleaner
Vehicle Cleaner

Five Certified Natural Fragrances (ISO 9235 certified)

Fragrance-Free
Lavender
Lemon Verbena
Pine
Peppermint
Ylang Ylang

 
 

Refillery Accessories

Signage with use instructions and detailed product information via QR codes
Custom-sized scoops
Bottles, caps, pouches, and trigger sprayer (all reliable, refillable, leak-proof, and recyclable)
Logistical & Supply Chain Excellence
We have been supplying increasingly large quantities of our products (privately labeled) to a single large customer for the past six years. In March of 2023 we launched our own brand. Our manufacturing systems are nearly ready for ISO certifications under the 9001, 14000, and 45000 standards. We are a highly organized, experienced group of professionals. We utilize fully integrated-automated Microsoft Dynamics and Shopify Plus logistics and ecommerce software. Additionally, we are EDI-Compliant via SPS Commerce.
Single-store customers can easily place orders via our Shopify Plus platform, while large multi-store customers can easily place orders using EDI via SPS Commerce.
Complete Vertical Integration
We design our products and then blend, package, label and ship them from our facility in Oregon. We manage cost and quality ourselves.
Plastics Recycling Consolidation and Certification
The general recycling system in the U.S. doesn't always work as intended. This is why we are committed to accepting our plastic packaging back from our customers and sorting-delivering them to our package vendors or their vendors. We provide documentation confirming the actual recycling details to current business customers.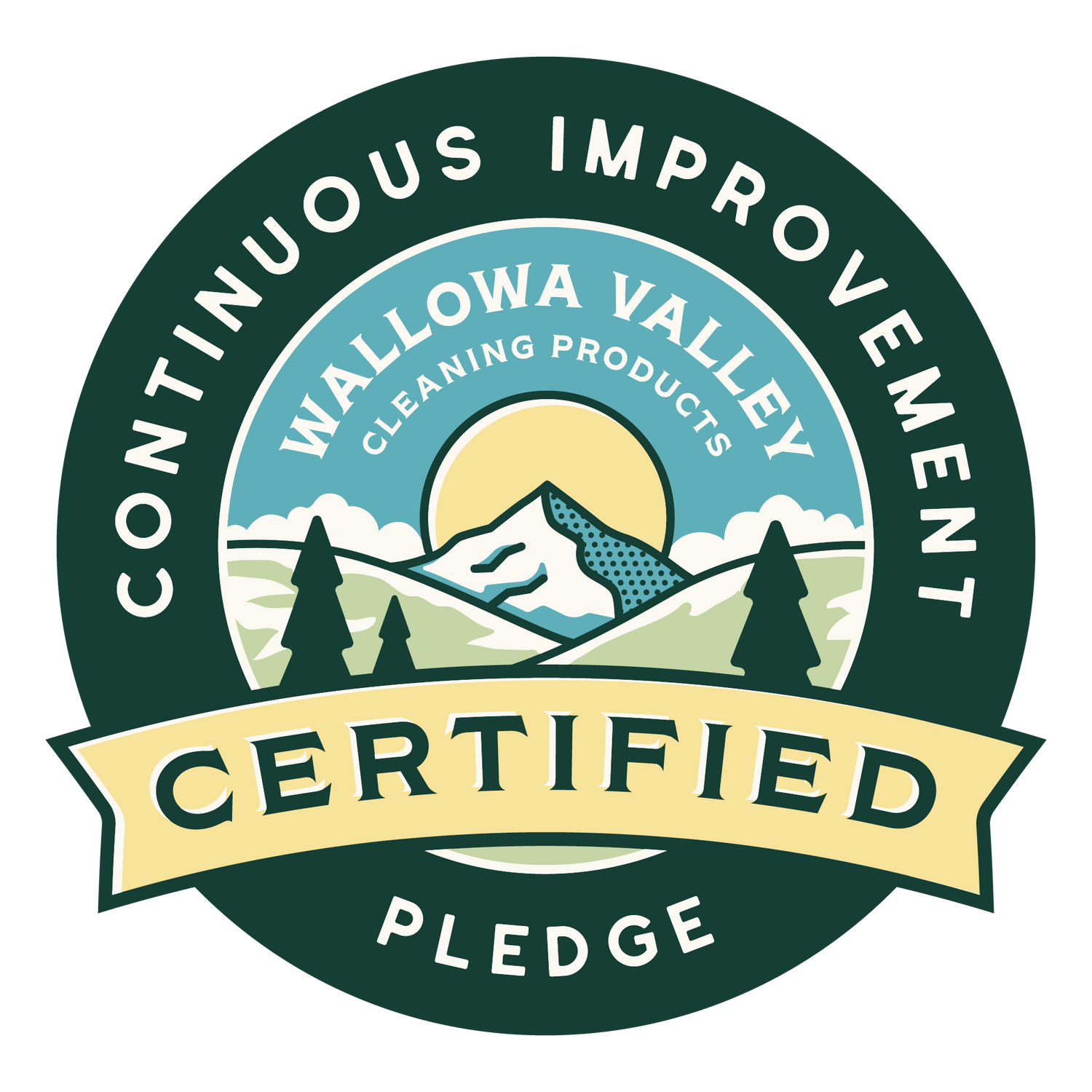 Our Pledge of Continuous Improvement
We embrace continuous improvement across our entire organization, from the products we manufacture to our distribution system to how we serve our customers.
Our Pledge